---
Don't forget to keep an eye out for tags while you're doing your counts and habitat assessments!
A few different groups throughout the West tag butterflies in the late summer and fall. Recoveries of these tags at overwintering sites and along the migration route provide important information on the western migration.
Note for tagging in California:
According to the California Department of Fish and Wildlife, it is currently illegal to tag (or captive rear or handle) monarchs in the state of California without a permit. More information here.
The flier below illustrates the different tag types and the contact people for each program: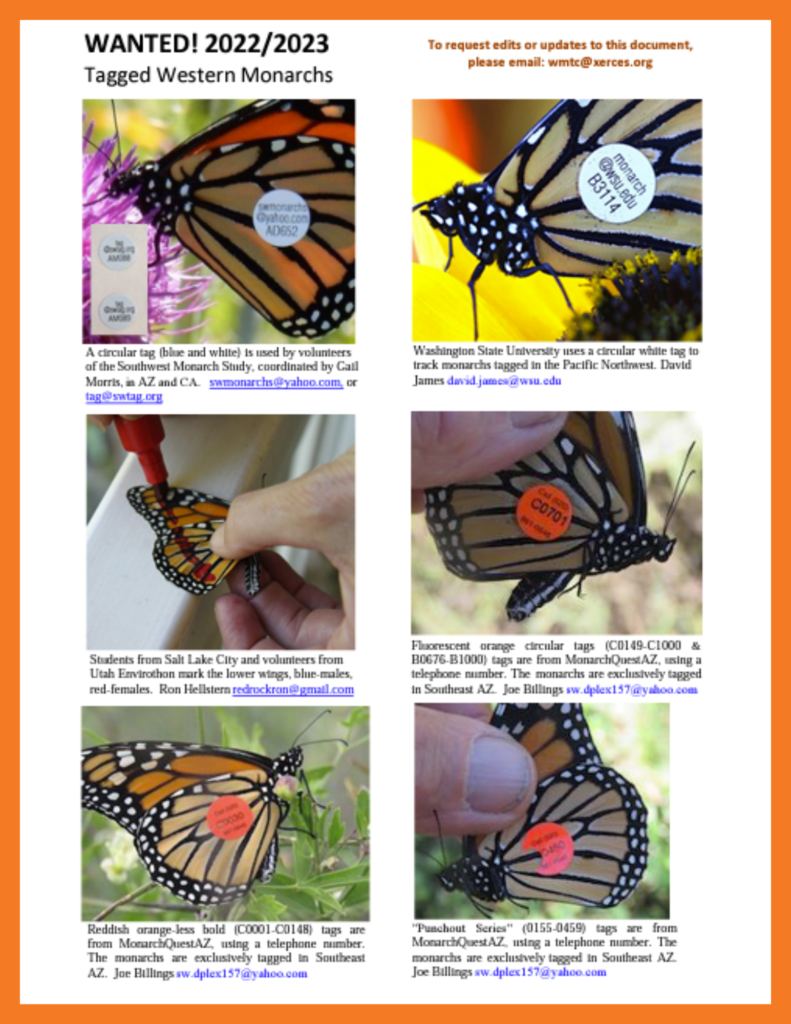 ---
Western Monarch Tag Recoveries 1957-2020
This map combines data from current and historical western monarch tagging programs and efforts starting with tagging by Urquhart in the 1950's through present-day tagging currently done by the Southwest Monarch Study, Pacific Northwest Monarchs, and Monarch Alert. Xerces recognized a need to combine available data on the western monarch migration to inform conservation efforts. If you want to learn more, we recommend contacting the individual tagging program responsible for the data. We also ask that if this map is used, to please cite all of the references listed below, including the current tagging programs. Links and citations for each of the tagging programs are provided below. *Note: this map has not been updated since 2020. Future updates will include adding 2021+ tag recoveries and publications of additional data not included in the initial mapping effort.
Click on a line in the map to see the details for each tag recovery.
Blu

e lines

denote spring migration tag recoveries

Green lines

denote fa

ll migration tag recove

ries
Suggested Citation:
Xerces Society Western Monarch Tagging Database. 2021. Western Monarch Tag Recovery Data, 1957-2020. Available at deborahs32.sg-host.com. This map includes all western monarch adult butterfly tag recoveries reported to the public through 01/28/20.
---
Data was compiled from tagging efforts in the Western United States from the following sources:
James, D. G., T. S. James, L. Seymour, L. Kappen, T. Russell, B. Harryman, and C. Bly. 2018. Citizen Scientist Tagging Reveals Destinations of Migrating Monarch Butterflies, Danaus plexippus (L.) from the Pacific Northwest. The Journal of the Lepidopterists' Society. 72:127–144.
James, David. 2015. Annual Project Progress Report for 2015: Developing an Understanding of Monarch Butterfly Breeding and Migration Biology in the Pacific Northwest
Morris GM, Kline C, Morris SM. 2015. Status of Danaus Plexippus Population in Arizona. Journal of the Lepidopterists' Society 69: 91-107.
Historical Data
Pyle, Robert Michael. Chasing monarchs: migrating with the butterflies of passage. Boston, Houghton Mifflin Co., 1999. 307 p.
Pyle RM. 2015. Monarchs in the mist: new perspectives on monarch distribution in the Pacific Northwest in Oberhauser KS, Nail KR, Altizer SM, eds. Monarchs in a Changing World: Biology and Conservation of an Iconic Insect. Ithaca, USA: Cornell University Press.
Urquhart FA, Urquhart NR (1977) Overwintering areas and migratory routes of the monarch butterfly (Danaus p. plexippus, Lepidoptera: Danaidae) in North America, with special reference to the western population. Canadian Entomologist. 109:1583–1589. (Note: specific dates for each tag release and recovery date are not reported in this publication, therefore the tag/release and recovery dates are a generic 9/1/1960).
Nagano, C.D., Sakai, W.H., Malcolm, S.B., Cockrell, B.J., Donahue, J.P. and L.P. Brower. 1993. Spring migration of monarch butterflies in California. Biology and conservation of the monarch butterfly, pp.217-232.
Yahoo Western Monarch Group/Listserv – Tagging Efforts before 2015: Pacific Northwest Monarchs, Monarch Quest AZ (Joe Billings) and Monarch Watch. Data compiled by Candace Fallon, Xerces Society.